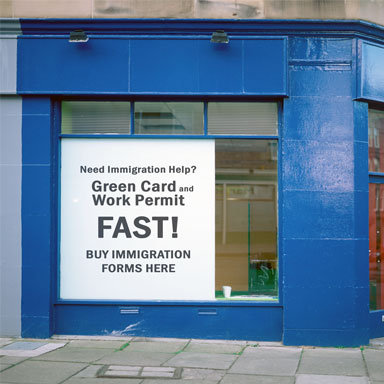 "If you pay this fee, you're guaranteed a place in the Diversity Immigrant Visa program!" 
"You can have this form for $20." 
"Under DACA, you're eligible for these services." 
"If you don't pay $300 immediately, you will be deported."
Don't be fooled by immigration scams!
Immigration laws are complicated, so it's no surprise there's a lot of fear and confusion surrounding them. Unfortunately, as the above headlines show, scammers take advantage of this. It's very likely that scams of this nature will increase in the coming years. In fact, the Attorney General has seen a significant uptick in immigration scams in recent months.  Here are some of the most common immigration scams to watch out for:
Being Approached by Fake Immigrations and Customs Enforcement (ICE) Agents: This happens when individuals posing as ICE agents ask immigrants for money and threaten to detain or deport them if they do not pay. If someone is demanding you pay them money or you will be arrested, they are not federal immigration agents.
Unsolicited Calls From Fake Officials: This happens when individuals claiming to be government officials or law enforcement officers call to ask immigrants to pay or risk being deported or detained. Often, the caller ID looks like a legitimate government number.
Notario Fraud: In many Latin American countries, "notario" refers to an individual who has the authority to perform legal services. In the United States, a notary public simply has the authority to certify a signature on a document. The are NOT licensed to practice law in any form. This leads to confusion among Latin American immigrants, who may unwittingly seek services from a notario - a scammer who takes advantage of this misunderstanding.
Misrepresenting Legal Credentials: This occurs when individuals falsely claim they are attorneys, or that they are able to appear before immigration agencies or immigration court. Their limited skills and qualifications may cause them to miss important deadlines or file incorrect forms. They often charge excessive fees for their services to unsuspecting immigrants.
Misinformation Fraud: This occurs when scammers provide false or inaccurate information to an immigrant about his or her eligibility for an immigration benefit. They are aware an immigrant is not eligible, but file the papers with immigration officials anyway. Immigrants often do not realize this until they receive a letter denying their application.
Immigration Affinity Fraud: Scammers who engage in this particular type of fraud target immigrants belonging to the same racial or ethnic group. They seek leverage over other providers by claiming to identify with the ethnic, racial, national origin, or community-based affiliations of the immigrant group. They may commit any of the above-mentioned types of fraud on individuals who have placed their trust in them because of their shared background.
In addition to instilling fear in immigrants and scamming them out of large sums of money, immigration scams can jeopardize an immigrant's current status and their chances of ever becoming a U.S. resident or citizen. Worse, immigrants can be placed in deportation proceedings as a result of fraudulent applications.
To avoid becoming a victim of immigration fraud,  only work with licensed lawyers or accredited BIA (Board of Immigration Appeals) representatives. Always make sure you are filling out the right forms and never sign anything you do not understand. Try not to make payments over the phone or by email. When you do make payments, always ask for a receipt. If you fall victim to an immigration scam, please know it's not your fault and make sure to report it to the Attorney General's Immigration Fraud Hotline at 866-390-2992 or email Civil.Rights@ag.ny.gov. 
For more resources on immigration and immigrant rights, please check out LawHelpNY.