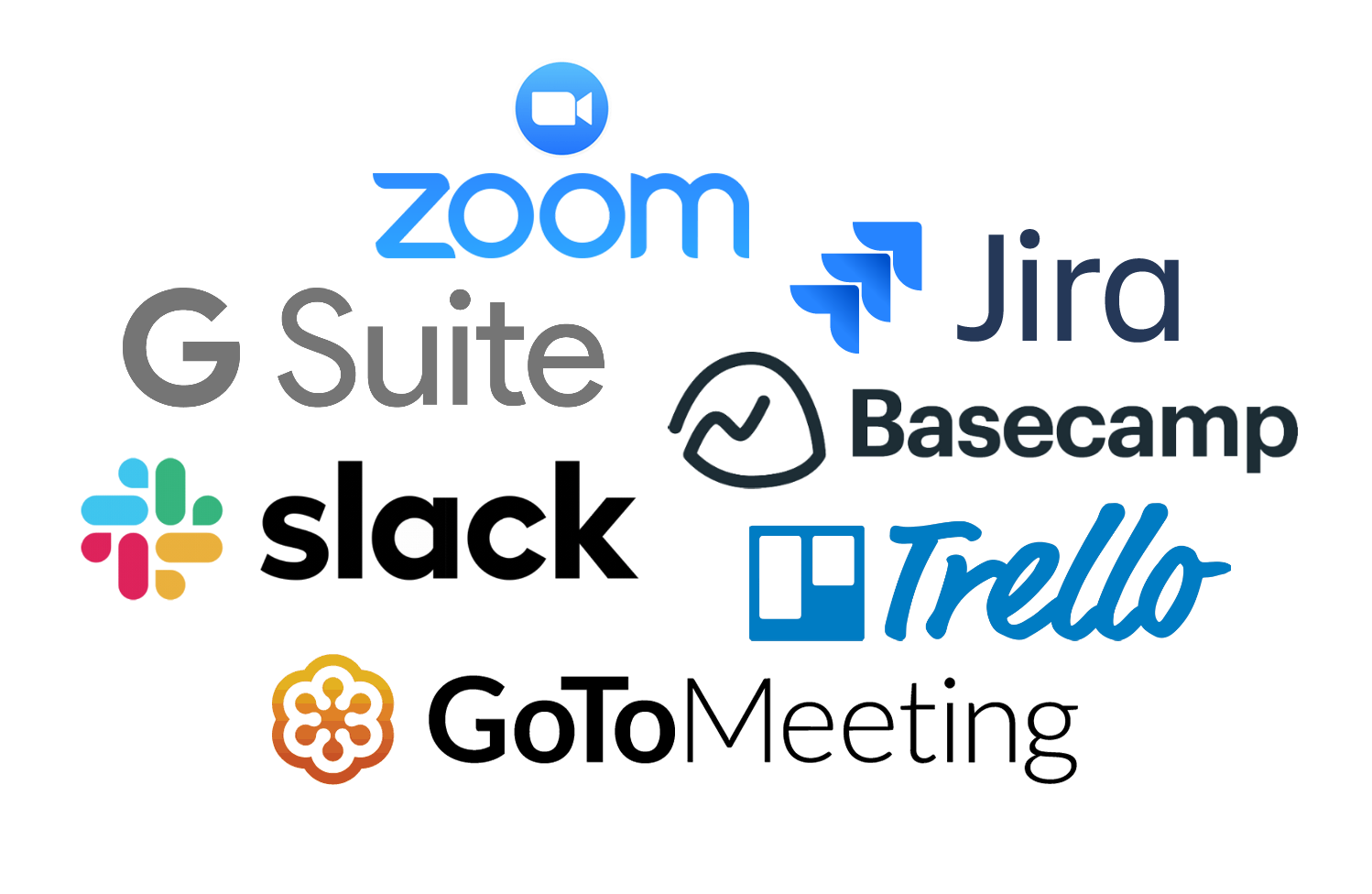 How can we work better together, leverage institutional knowledge and expertise, and foster meaningful relationships to more effectively pursue our mission of serving communities in need and addressing the access to justice gap? One way is increasing our productivity and community engagement by using communication tools to share and collaborate. This is especially important when working with a distributed team as more organizations provide the opportunity for staff to work remotely.
We'll discuss a few top tools that we use in our organizations, including Slack for interoffice communication, G Suite (Google Docs, Sheets, and Slides) for collaborating, Basecamp, Jira and Trello for managing projects, and GoToMeeting and Zoom for video and audio chats
Communication and Collaboration Tools
Slack – Slack seemed to be a popular tool for the crowd, mostly due to its seamless group and 1-on-1 chat and video capabilities, ability to collaborate across multiple organizations in one workspace, and handy plug-ins. With integrations like Zoom, GCal and Google Docs, internal polling, and the most important, Giphy, Slack is a one-stop shop for communication and resource sharing. Plus, its freemium model makes it an attractive option for centralizing group chats. Tim even estimated that during his time at a legal technology startup he cut down on 80% of internal email by moving to Slack!
G Suite – If you're one of the 1.5 billion gmail users, you have free access to Google Docs, Sheets, Slides, and Forms. It's arguably the most powerful and accessible productivity suite out there and of course, the most affordable. A couple of outstanding features is the seamless and intuitive ability to collaborate on the creation and editing of documents, spreadsheets, and slide decks and accessibility since everything is saved to the cloud. Our panel used a Google Doc to plan our presentation and would have created a slide deck if we weren't insistent on the session being all about live demos. This is an invaluable tool for teams.
GoToMeeting and Zoom – The verdict is in, and WebEx is out, in favor of popular newcomer Zoom and reliable GoToMeeting. With an intuitive UX/UI and simple phone app, Zoom makes it easy to join conversations on the go, share screens, chat, and record. The free Zoom plan gives you 40 minute sessions with 100 participants.
GoToMeeting does one thing and does it well – online meetings where you communicate via audio or video, give a presentation by sharing your screen, exchange chats with participants, record for future viewing, set up recurring meetings, and more. They also offer a free version with a 40-minute limit and only 3 participants. You'll want to spring for a Pro account starting at $12/month.
Trello – Based upon the audience, Trello is a popular simple intuitive project management tool. Trello has a number of project management templates that you will find handy and collaboration with other team members is easily done through the creation of a team and shared Trello boards. If you are looking for an easy to use project management tool and or even a simple task tracker for yourself, it's worth giving Trello a try. Trello has a free version in addition to options to upgrade to Business Class and Enterprise.
Basecamp – By a show of hands, only two members of the almost 100-strong audience indicated that they use Basecamp. I think they're missing out.
Basecamp is a project management tool that keeps you and your team organized and in the loop. We all work on projects all day every day and it's a lot more efficient and productive to have one place where you can access documents and files, messages and tasks, meeting notes, and communication threads. For me, the standout feature of Basecamp is it gives you what you need and not more. Too many project management tools are overly complicated with an abundance of features which hinders the adoption. Basecamp offers a flat fee of $99 per month for unlimited users and projects + a discount for nonprofits. They also offer a free 30-day trial. Check it out!
Jira – Like Basecamp, Jira is a project management tool, but it shines as a powerful issue tracking collaboration tool between program and technology teams at nonprofits. If you're managing the development of a technology project or looking to address bug fixes and maintenance on an ongoing basis, you can sign up for a free version and kick the tires before deciding to upgrade. If you decide to upgrade, make sure to contact Jira directly for non-profit pricing.
Original full-length post published on the Connecting Justice Communities blog.
Thanks to our Communication Tools and Practices to Optimize Internal Collaboration and Engagement panelists at the Legal Services Corporation (LSC) Innovations in Technology Conference who shared their knowledge. The panel included Susan Choe, Executive Director of Ohio Legal Help; Kristen Sonday, Co-founder & COO of Paladin; Rodrigo Camarena, Director of the Immigration Advocates Network, and Tim Baran. Special shout out to Kristen Sonday and Susan Choe who contributed to this post.
About the Author
Tim Baran is the Technology Innovations Manager at Pro Bono Net. After two decades in the legal profession as a law firm library director, legal technologist, and marketing director, he now engages the community to identify problems and collaboratively build solutions to help close the justice gap and improve access to legal information and affordable legal services.